Br. Michael Letostak, 1952-2014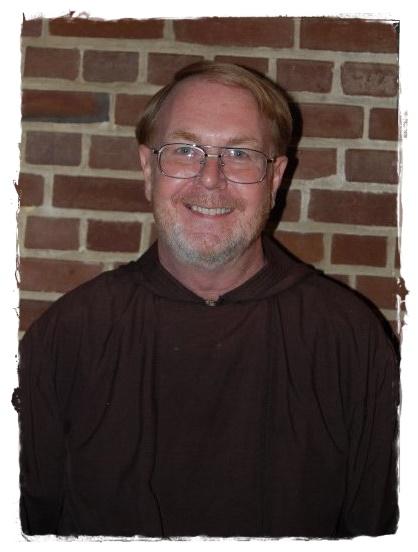 Date of Birth: 
May 9, 1952
Place of Birth: Enid, OK
Investiture: July 21, 1984
Temporary Profession: July 13, 1985
Perpetual Profession: July 29, 1989
Date of death: September 9, 2014
Burial: St. Augustine Cemetery, Millvale, PA
"I don't know. Why do

you

think
I'd do something like that?"
       Mike Letostak loved Bob Dylan. He claimed to possess every one of the folk singer's recordings on CD -- he saw him in concert at least 10 times or more. One friar learned that he was typing out the lyrics to all of Bob Dylan's song canon. "Why would someone do something like that?" asked the friar. Michael replied with the citation above without blinking an eye.
       The word 'radical' would hardly come to mind when one remembers Br. Michael Letostak, but at the same time, you always knew there was a current beneath him which ran deeper than he would let his understated exterior display.
       If that dedication to Bob Dylan could remain so veiled from those who did not know him well, then maybe we failed to recognize how radical and deep were the streams of his faith and devotion as well.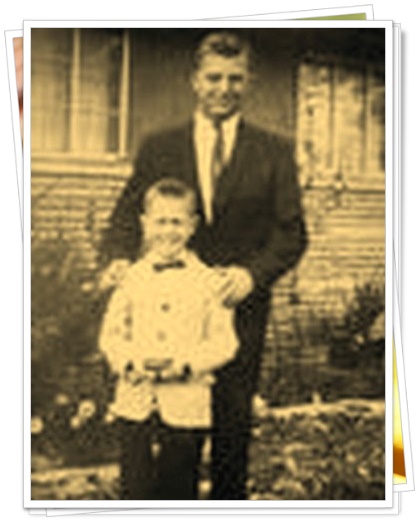 Born on May 9, 1952, in Enid, Oklahoma, his dad, Edward, served in both World War II and in the Korean War. He was on survival exercises with the Army Rangers in 1960 and sadly died on maneuvers when Mike was eight years old. The army pension served the family well, and the priest at the local parish became a father image and support. His mother, Dorothy (Correll) Letostak re-married some time later, moving the family to Columbus, OH, but the second marriage ended in divorce. With the loss of military benefits upon re-marrying and now alone to raise the family, his mom was forced to find work, and as a teen, Mike worked 30 hours a week at a local grocery store which affected his high school performace.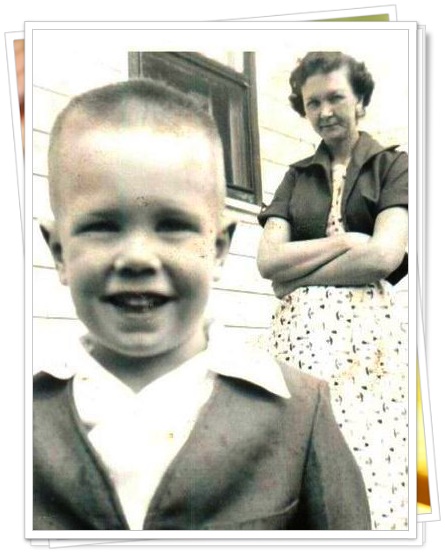 In 1970 he graduated from Westerville High School with the hopes of becoming a teacher. Like others in his generation, inspired by songwriters and changing times, he had misgivings about joining the military campaign in Southeast Asia. Teaching deferments were possible, if his grades could be maintained at a higher level.  He earned a Bachelor's degree in Elementary Education from nearby Ohio State University and put his degree to use after college.
       For 8 years, Mike taught in the Columbus Public Schools. He taught 5th grade students, and coached basketball and tutored individual children. After a near-death experience hiking a gorge trail at one of Ohio's State Parks, Mike gave serious thought to what he wanted to do with his life. He attended Bible Studies and read a lot about the Catholic faith. When a local friend was ordained to the priesthood, Mike became more involved in his own faith, volunteering at a Group Home for the Mentally Handicapped. He read Thomas Merton's Seven Story Mountain and, with his priest friend, stayed several days at Merton's Monastery of Gethsemani. Mike found himself interested in the Religious life, community living and prayer. He contacted the Capuchin Vocation Office and began his journey in the Franciscan life.
       Mike spent nearly two years (1983-84) in his postulancy at St. Joseph Friary, York, PA, living with the friars and teaching at St. Rose Middle School. The friars there commended him for his sincerity and for his faithfulness to prayer. "We enjoy his laughter!" wrote one friar. As an example to his students, Mike made it a point to attend Sunday Mass at St. Rose Parish instead of with the friars at their resident parish; he wanted his students and their parents to see how important the Lord was to him outside of the classroom setting.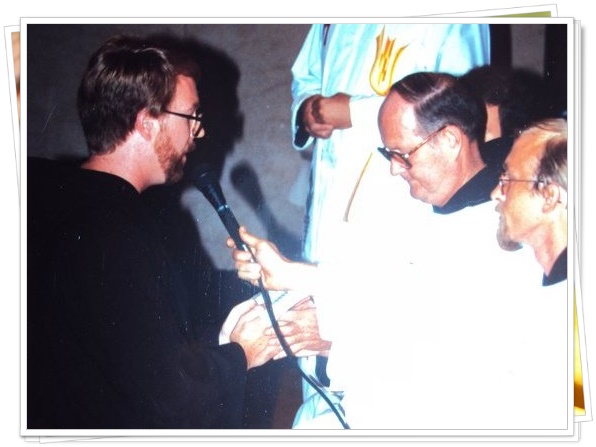 He was invested in the Capuchin habit as a novice in 1984. One year later, on July 13, 1985, the now Br. Michael professed his first vows. For two years, he took courses In theology at the Washington Theological Union in DC, but spent his third and fourth years of initial formation in Dover, OH, where he began teaching primary grades at St. Joseph Elementary School. He promised to live as a Capuchin friar for the rest of his life, making his final vows on July 29, 1989. The Perpetual Profession took place in Dover, in the presence of Mike's students and their families and along with our brother Mark Carter, OFM Cap., a fellow Ohioan, whose family lived in Avon Lake, OH.
       Moving from Dover in 1992, Michael went on to teach for one year at Mount Pleasant School in Cleveland, OH, while living with the friars of St. Paul Friary. It was not an easy transition. Because of disagreements on policy and methods of teaching, he resigned his position and worked for a year in fraternal service in Pittsburgh, PA, sorting out other possibilities for continuing to teach. His year and a half at St. Augustine Friary and the then St. Augustine Parish house extended to August, 1994, when he accepted a position at St. Joseph Parish School and returned to the friary in York, PA, for the 1994-95 academic year.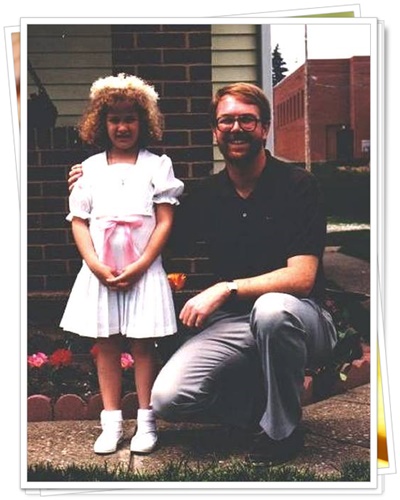 Michael realized, in time, that the teaching career he enjoyed coincided with fundamental changes taking place in society, in schools, in students and in parents. Mike was convinced that primary students needed and deserved a rigourous academic program which emphasized the essentials of discipline and decorum. His policies set out for the students went on for pages, single-space, outlining the 'contract' he conceived with the students and parents and delineating his expectations firmly and clearly. He was not afraid to challenge a child in the classroom or to give him or her what he felt to be an honest and deserved grade based on performance. Appeals came from parents, administrators or the students themselves to lighten his demands. This clash of visions about education would force him to change directions in his life; he spent some time in Cleveland from October, 1995, to renew his teaching certificate in Ohio, but in the end, he would not be returning to the classroom.
       In 1995, he moved to Capuchin College in Washington, DC, to assist in the life of the community of friars in studies. He would spend nearly 19 years of his life ministering in that fraternity as the purchaser of food and supplies and as librarian for the large house collection.
       Shopping for the house was not a simple task for the large and varied formation community. Despite the varied tastes and requests of the brothers, the friars appreciated his attentiveness to his work and his careful and regular maintenance of the communal needs. As one former friar student said, "His dedication to the task at hand was second to none, and he always kept the house moving with his fastidious and precise work ethic, silently in the background."
       . . . And most of Michael's life was lived "in the background." By all appearances quiet and unassuming, he could still be funny and loved a caustic intervention now and then. Above and beyond his love for Bob Dylan, he was an avid baseball fan, rooting for the Texas Rangers baseball team and watching just about all of their games whether on TV or via the Internet.  He may well be one of only a handful of people who manually typed the text of the entire New American Bible into a computer. Sure, there were digital texts available in software products, but Michael saw it as a chance to "read" the Bible all the way through. While he was in the process others would consider mind-numbing and monotonous, he'd be asked, "Where are you now?" "Kings" or "Malachi" or "Corinthians" would be the reply.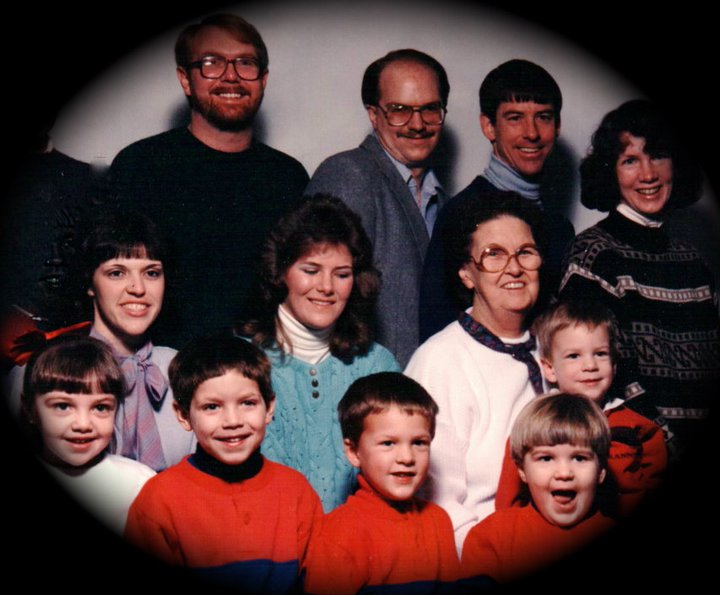 He was attracted to computer work, and he was a great typist. Maybe he found it calming; maybe he was a tad obsessive; and maybe he was on to something, realizing that spending that kind of time with the Word of God did emblazon that Word more deeply in his heart and psyche. He was, without a doubt, devoted and consistent, and it was no less true of his fraternal life.
       His love for "hanging out" with the friars was evident in his calm demeanor of work and prayer, especially in his willingness to listen to and share wisdom with the friar students. His best moments, they say, were always on the veranda at Capuchin College, smoking a cigar and chatting with the brothers about anything and everything.

       Br. Mike learned in July, 2013, that he was living with stage 4 lung cancer. His struggle for the following 14 months was noble. He faced his cancer bravely while enduring the tests, surgeries, and other medical procedures attempted to prolong his life. His classmate, Mike Greb, OFM Cap., remembers that he was "amazingly courageous" in those last months of his life. I was very inspired in the way he accepted God's Will. He told me rather often that 'These years of religious life prepared me for this time. I am not afraid of death. That wasn't always the case. I needed all of these years to be ready to see the Lord!'"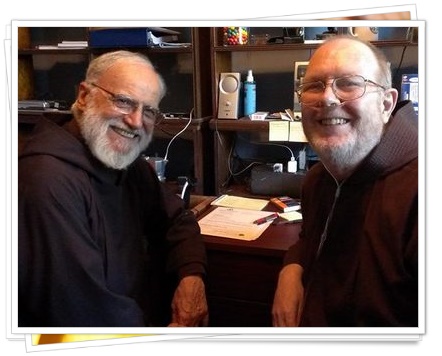 Throughout the ordeal, Mike remained in touch and involved through the computer. Facebook became his point of contact.  His entries were frequent, often detailing the courses of treatment and the various hospital visits. He had fans (hundreds of them) who befriended him and with whom he had the chance to share his burden. They consoled and encouraged him through social media, and his contact with other 'friends' in the Facebook mode grew as his days grew shorter.
       In his homily at the funeral Mass for Michael, a second classmate, Frank Yacobi, OFM Cap., told those gathered to remember him:
       He was the first among us to really dig into social media as a vehicle for catechesis and evangelization.  He rarely missed a day of posting some reflection about the life of St. Francis and the Liturgy of the Day each day, until even getting to his computer became too much of a struggle.  As he wrestled with the understanding that he'd not be inside a classroom again, he found that there were other ways and opportunities to educate and preach his faith, and I think he found much peace and purpose in that.
       One result of that outreach can be seen in such a 'friend' as 'Jeff' who had never met Mike personally. As Mike became weaker in his final months, 'Jeff' posted:
       The decision you made years ago to give yourself over to serve/service suits you well. You're still serving. Your words are an inspiration to me and others. Me and you.... we're friends.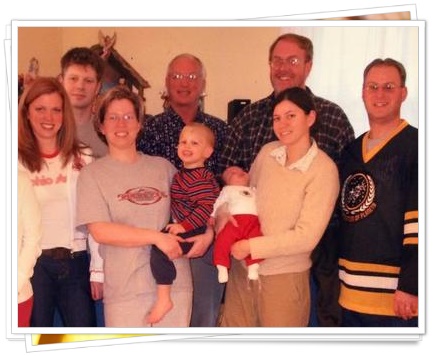 Confrere Brian Stacy, OFM Cap., assisted in his care as he finished his studies in Washington. He witnessed that he had "never seen anyone suffer that much." Mike posted his last Facebook entry on July 29, 2014. He wrote, in part:
       Today, Fr. Paul Dressler, Br. Kip Ledger, my vicar here at Capuchin College, and Sr. Mary Kerner, my Hospice Care Nurse, got together to let Hospice Care know that I would no longer be needing their services. As of tomorrow I will be moving to the Sacred Heart Nursing Home in Hyattsville, Maryland . . .
       The Capuchin priests and brothers have done everything in their power to make my life easy as well. Despite all of this, I still found that I needed more help and care than that which the priests and brothers, and Hospice Care could provide for me here . . . I wish to thank the friars here who have done so much for me already. Now, I feel like it is time for me to move on to receive the professional care of Health Care Providers who do this for their living.
       Six weeks later, on Tuesday, September 9, 2014, our brother Michael died at Sacred Heart Nursing Home. He was 62. Our brother Paul, his guardian mentioned above, wrote this note to the friars of the Province and to the friends of Mike on Facebook:
       "Our beloved brother Michael has finally taken his great trip to the Father's House. It is bitter for us who remain and must wait for our own eternal meeting with Jesus, but it is so sweet for our brother, who longed awaited and hoped for the embrace of our Savior. He passed this morning at around 9:15 am -- rather quickly, without much pain. We received the call in the morning, and several friars went immediately to see him; however, we were just minutes too late. Sister Anna [of the Nursing Home staff] told us that she and Brother Al [Vincent, a confrere resident there] were both by Michael's side praying the last decade of the rosary when he breathed his last." 
     After a Mass at Capuchin College in Washington, DC, Michael's body was received at St. Augustine Friary in Pittsburgh, PA, on Friday, September 12. A wake service was prayed in the evening, and Mike's life was remembered and celebrated. In St. Augustine Church on Saturday, September 13, another novitiate classmate, Provincial Minister David Nester, OFM Cap., celebrated the Mass of Christian Burial. Our brother Frank Yacobi, OFM Cap., cited above, offered the homily -- and didn't forget to call some Bob Dylan lyrics to mind:   
Whatever other reflections or memories of him might come to each of us, Mike might, I think, still suggest these words from Bob Dylan's song "My Back Pages" as his own offering on what he would want us to take away: "Ah, I was so much older then.  I'm younger than that now." Mike, may God bless and keep you always, and may you stay "forever young." 
       The burial followed in the friars' plot of St. Augustine Cemetery, Millvale, PA. As of January 2016, his Facebook page, now titled "Remembering Mike Letostak," is still populated by reflections and prayers for him along with his own final messages to his 'friends.'
        It's not hard to imagine that lyrics he once typed by Dylan were near to Br. Mike Letostak's heart as he grew weaker before he made his Transitus to the Lord.
When you're standing at the crossroads
that you cannot comprehend,
And you don't know what's up the bend,
just remember that death is not the end.
And all your dreams have vanished,
And you don't know what's up the bend,
just remember that death is not the end.
Bob Dylan, "Death is Not the End"
from his album "Down in the Groove," 1988
       But then again, at some point in his life, he also typed: "I am the resurrection and the life; whoever believes in me, even if he dies, will live, and everyone who lives and believes in me will never die. Do you believe this? (John 11:25-26)"